Mr Hyde ICON Pre Workout by Pro Supps
This product is unavailable
ProSupps have released their first entry into super-premium complete, performance-based pre-workout, Mr Hyde Icon. This innovative, unique and science led formula, is packed with eight trademarked and patented premium ingredients, that will deliver a soul crushing workout experience that will increase athletes' strength, power, energy, endurance, pumps, focus, performance, thermogenesis and recovery. Mr. Hyde Icon is perfect for anyone looking for an undeniable edge in the gym.
The formula behind Mr. Hyde Icon is broken up into four lots of ingredients. The first group is there for strength and power with 1.5g of creatine HCl, 3.2g of beta-alanine, and 150mg of elevATP. Next on the list is the pre-workout's mTOR activation and recovery matrix with 2.5g of betaine anhydrous and 2.4g of 10:1:1 ratio BCAAs.
The second half of ProSupps' Mr. Hyde Icon is where you'll find its energy matrix made up of 125mg of Dynamine (40%), 50mg of TeaCrine (40%), and 250mg of the classic caffeine. You then have the pump and performance features with 20mg of CaloriBurn GP grains of paradise, a gram of the PeakO2 performance blend, and for pumps, 250mg of Capros, 25mg of NSK-SD 40, and 1.5g of Nitrosigine.
Intense, High Powered Energy & Focus
Promotes Increased Blood Flow for Intense, Sustained Pumps & Nutrient Delivery
Promote Elevated Training Capacity & Endurance
Supports Optimal Rate of Recovery
Increase Oxygen Uptake and Anaerobic Power
Enhanced Strength & Power Output
Supports Positive Mood & Training Motivation
Supports Enhanced Thermogenesis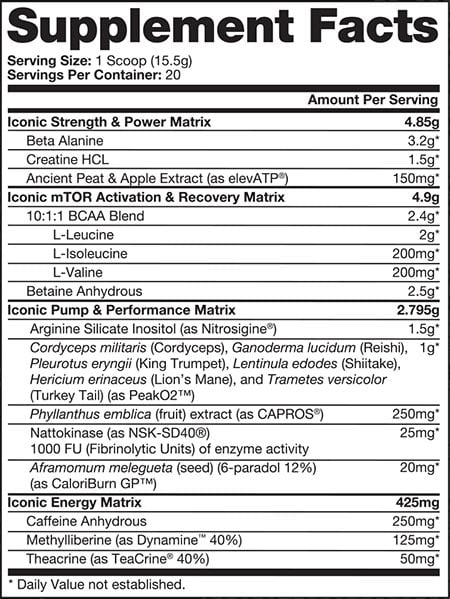 *Please note: Nutritional info may vary slightly between flavours.
Related Products